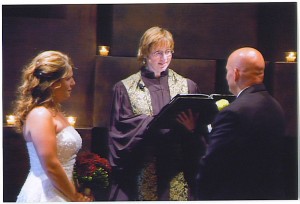 We work together to fashion a wedding ceremony that reflects your personalities, spiritual/religious beliefs and understanding of love and marriage
Service is meaningful, unique, and tailored just for you
Process works for traditional and non-traditional services and settings
Accommodates different faiths, cultures, values and personal styles
Custom designs for Weddings, Commitment Ceremonies, and Renewal of Vows  
We meet two times before the wedding
Rehearsal is optional
Packet of materials you take home
You select what you want in the service
You are not limited to the packet
If you don't find what you want in the packet I can send you more ideas and offer suggestions
I work with your selections to create a wedding ceremony that is personalized to you
Ceremony is sent to you fully scripted, including processional order and placement of wedding party
If you are not happy with the service, we make the necessary changes until it is exactly what you want
Electronic copy makes it easy to print your own order of service
Easy to work with couples out of town, out of state, and out of the county 
The process that I have developed works quite well and can be adapted to fit almost any particular circumstance or needs.  I meet with you two times before the ceremony.  The first time is very casual – I get to meet you and find out how you met and what you love about each other.  It is very low key.  At that meeting I give you a wonderful packet of materials – full of vows and rings and readings and poems and prayers….  and I give you instructions on how to use the packet.  Then the two of you take the packet home and select the things you want in the service.  Since I will write your wedding from scratch, you are not limited to the packet.  It is there so you do not have to go out looking for all the pieces that go into a ceremony.  However, if there are things outside of the packet that you want to put into your service, it is no problem.   This method allows the ceremony to reflect your understanding of love and marriage.  You also have complete control over the religious and spiritual language.  It is important that your service be true to your own spirituality.  I am committed to not using your wedding ceremony as a soapbox for my religious beliefs.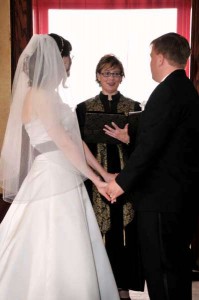 After you have had a chance to look through the packet, we meet again and you show me what you have chosen.  I go through it, make sure we have all the necessary parts, and fill in anything that is missing.  At that meeting I can give you a general order of service and tell you about how much time it will take.  I then go home, type it up, and e-mail a copy to you.  If you are planning to print a bulletin for your service, having the electronic copy makes it very easy.  It also makes it easy for you to send readings to others participating in your ceremony. 
Hopefully you are happy with the service we have created, but if there is anything you want to change, I make those changes.   This written copy also includes the processional order and staging for the wedding party.  This fully scripted ceremony also means that  you can have a rehearsal without the Minister's presence since everything is written down for you.   Once we have the wedding ceremony completed, I am available to direct your rehearsal.   I make the rehearsal fun and help remove some of the stress,  anxeity and pre- wedding jitters.  I also provide helpful hits for the day of the ceremomy and help the you as a couple prepare so you can truly enjoy your wedding.